FEATURED BIBLE STUDY PROGRAM on Good News TV
---
Discover Prophecy
Presented by Pastor David Asscherick
"I have never heard someone speak so clearly on bible prophecy and I learned so much, I am forever thankful."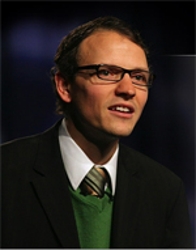 A former extreme sports enthusiast and punk rocker, David Asscherick turned his life over to the God of the Bible at the age of 24. Since that time, he has traveled all over the world preaching and teaching the Good News of Jesus Christ.  In this powerful series produced by 3ABN, David will give you the "big picture" of the Bible and show the true existence of God and His plan for Salvation and soon return.  Follow along with your Bible and your own study guide (print/download below) and you will understand the Bible Truths and prophecies as never before after participating in these powerful presentations.
Check our current TV Schedule for air times.