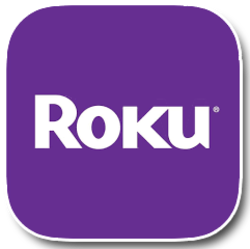 How to get Good News TV on your Roku device...
You can get our English channel for FREE on your Roku device by
following the instructions below. Our Spanish channel is not currently available since Roku would not allow foreign language channels to be streamed. Here is how to get our English channel:

1) Purchase your Roku device (box or stick) from your local retail electronics store or an internet store like Amazon.com.

2) Plug your Roku device into an HDMI port on your TV, change the Input or Source on your TV to this HDMI option (like HDMI 1), and follow the instructions on the TV screen to connect the Roku device to your home internet service through your wireless router.
3) Once your Roku device is connected to the internet, go to the Search option in the main menu, type in "Eleden.net", and then select it. Good News TV channel is inside of the Eleden.net App on Roku.

4) Highlight the "Eleden.net" channel that is displayed, and select the "Add Channel" button . This
will add the channel to your Home.

5) You can now back up to the Home screen and you'll find Eleden.net channel at the
bottom. To move it to the top, highlight Eleden.net, click on "*" on remote, click the arrows on remote to move it, then click "OK". 

6) Highlight the Eleden.net channel and click "OK".


7) Highlight Churches and click "OK".

8) Highlight "Good News T.V." in the list and click OK.

You are now watching Good News TV on your Roku device!


SPECIAL REQUEST: In order to help our Good News TV app gain a good reputation and display first in search results, please go to the Eleden.net Channel on your Roku device, click on the "*" and rate the channel. Please don't forget to rate our app as 5 stars. If you notice any problem with the App then please let us know by emailing info@MyGoodNewsTV.com. Thank you so much for your feedback.