WATCH LIVE--AZ CAMP MEETING


June 7 - 22, 2019





DOWNLOAD ENGLISH CAMP SCHEDULE


DOWNLOAD HISPANIC CAMP SCHEDULE
DOWNLOAD CAMP DVD/CD ORDER FORM

To view recent GNTV productions,
visit our YouTube Channel at:
https://www.youtube.com/GoodNewsTV-AZ

Arizona Camp Meeting Invitation

Call Sandra for reservations at 480-991-6777

PHOENIX VIEWERS
Click here for help getting our channel.



CLICK HERE TO DOWNLOAD YOUR CAMP MEETING PROGRAM ORDER FORM
Another Changed Life:
Nancy
Nancy shares that, "I don't miss church, I don't miss Sabbath School, and I don't miss Good News TV. I watch it every day. Without it, I feel like something is missing. It amazes me that ... the things I've learned in the last 3 years (on Good News TV) has kept me on the straight and narrow." She then turns to the viewers and shares that, "If you're missing something in your life then you are probably missing the Lord. Watch Good News TV. It will touch your heart."




The Evidence Series DVDs
A powerful 9 night seminar series comparing evidence of creation and evolution...
Answering the questions like, "Does God Exist?" "Can I Trust the Bible?"
Contact us to order your set of DVDs or

learn where this will be presented next.



http://www.evidence4life.com
Now you can watch Good News TV in a variety of ways.
CLICK HERE to learn how


Glendale Sanctuary Choir & Orchestra
Watch our latest Christmas production below!

Would you like to partner with us?
For $100 minimum donation

,
we will give you your choice of a DVD or CD of the
Glendale Sanctuary Choir and Orchestra
. We have other gifts available as well. Call us to learn more.
__________________________________________________________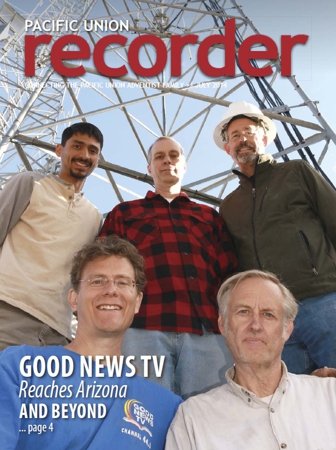 See the attached article for the latest update on our AZ Expansion!
Contact us to learn how you can help. 480-264-1116
---
Special Resurrection Concert


Glendale Church, 6801 N 43rd Ave, Phoenix
March 31, 2018, 4:00pm & 7:00pm
EVERYONE IS WELCOME !


Resurrection Weekend Worship Service
Paradise Valley Church
2727 E Cactus Rd, Phoenix
March 31, 2018, 11:00am
EVERYONE IS WELCOME !


Watch Good News TV by clicking on

TV image

→
( works with your computer, tablet or phone
)
DFW Viewers CLICK HERE
---
---
TROUBLE GETTING GNTV ON YOUR TV?
Good News TV, a Christian television station, 
is NOW LIVE on the airwaves in

Phoenix, AZ (22.1), Dallas/Fort Worth, TX (20.4) and many more locations!
Tune to the channel in your community, 
OR click on "WATCH LIVE" at the top-right of this web site.
Adopt a Program
Did you know that a 30 minute program costs Good News TV just $12 per episode to air? That's just $48 per month to broadcast a life-changing show like "It Is Written", "Beyond Addiction", "Marriage in God's Hands", "Naturally Gourmet", "Kid's Time Praise", or "In Search of the Truth". Download a TV guide and choose a program you would like to adopt today. Call us at 480-264-1116 or click on the "Donate" button to the right.  Your monthly gift will help GNTV proclaim the good news of Jesus' love 24 hours a day
.