Our Great Health & Hope Summit


Green Valley Church, 1475 W Via De Chapala, Sahuarita, AZ
January 20 - 27, 2018
FREE Dinner & Cooking Demo 5:00pm nightly


FREE Bible Presentation 6:30pm nightly


More Information: 520-303-3811

Yuma Bible Study Seminars


Yuma Church, 1681 S 6th Avenue in Yuma 85364
January 12 - February 10, 2018, 7:00pm nightly
Every Sunday, Tuesday, Wednesday, Friday and Saturday

Watch Pathway Phoenix Rally--ON DEMAND
Viewer
Testimony: Jimmy Greco
A powerful story about how our Creator has impacted the life of this artist.



The Evidence Series DVDs
A powerful 9 night seminar series comparing evidence of creation and evolution...
Answering the questions like, "Does God Exist?" "Can I Trust the Bible?"
Contact us to order your set of DVDs or

learn where this will be presented next.



http://www.evidence4life.com
Now you can watch Good News TV in a variety of ways.
CLICK HERE to learn how


Glendale Sanctuary Choir & Orchestra
Watch our latest Christmas production below!

Would you like to partner with us?
For $100 minimum donation

,
we will give you your choice of a DVD or CD of the
Glendale Sanctuary Choir and Orchestra
. We have other gifts available as well. Call us to learn more.
__________________________________________________________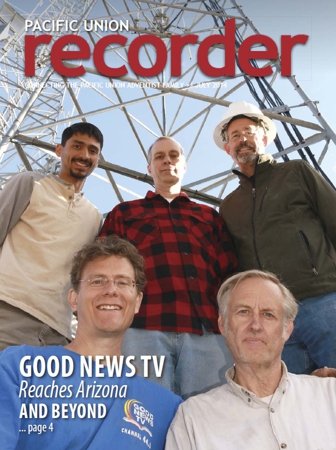 See the attached article for the latest update on our AZ Expansion!
Contact us to learn how you can help. 480-264-1116
---
Yuma Bible Study Seminars


Yuma Church, 1681 S 6th Avenue in Yuma 85364
January 12 - February 10, 2018, 7:00pm nightly
Every Sunday, Tuesday, Wednesday, Friday and Saturday


__________________________________________________________
Watch Good News TV by clicking on

TV image

→
( works with your computer, tablet or phone
)
DFW Viewers CLICK HERE
---
---
TROUBLE GETTING GNTV ON YOUR TV?
Good News TV, a Christian television station, 
is NOW LIVE on the airwaves in

Phoenix, AZ (22.1), Dallas/Fort Worth, TX (20.4) and many more locations!
Tune to the channel in your community, 
OR click on "WATCH LIVE" at the top-right of this web site.
Adopt a Program
Did you know that a 30 minute program costs Good News TV just $12 per episode to air? That's just $48 per month to broadcast a life-changing show like "It Is Written", "Beyond Addiction", "Marriage in God's Hands", "Naturally Gourmet", "Kid's Time Praise", or "In Search of the Truth". Download a TV guide and choose a program you would like to adopt today. Call us at 480-264-1116 or click on the "Donate" button to the right.  Your monthly gift will help GNTV proclaim the good news of Jesus' love 24 hours a day
.