Watch Good News TV by clicking on

TV image

→
( works with your computer, tablet or phone
)
DFW Viewers CLICK HERE
__________________________________________________________
Now you can watch Good News TV in a variety of ways.
CLICK HERE to learn how
__________________________________________________________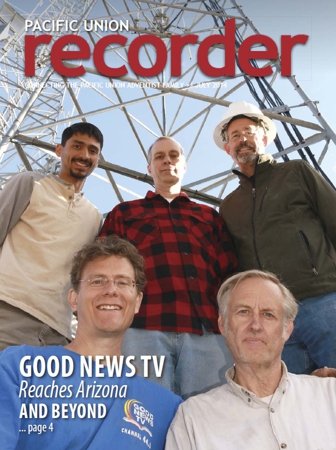 See the attached article for the latest update on our AZ Expansion!
Contact us to learn how you can help. 480-264-1116
---
Saturday, December 19, 2015, 10:45am
Seating limited, so arrive early.

2727 E Cactus Road, Phoenix, AZ 85032
602-971-6010

Glendale Sanctuary Choir
Saturday, December 19, 2015, 10:45am
Seating limited, so arrive early.

6801 N 43rd Ave., Phoenix, AZ 85019
GSCHOIR.ORG
Find a Church Near You !

Call us to find a church near you
to worship at this week.

---
LIVE Call-in Program on GNTV




Praying In The Sabbath


(hosted by local pastors)
Fridays, 8:00-9:00pm
Bible Study Programs on GNTV
Healing Insights from the Book of Mark

(hosted by David DeRose, MD)

Eleventh Hour Evidence
(hosted by Pastor David Asscherisk)
Millennium of Prophecy
(hosted by Pastor Doug Batchelor)
CLICK HERE for Bible lessons & air times
---
TROUBLE GETTING GNTV ON YOUR TV?
Good News TV, a Christian television station,
is NOW LIVE on the airwaves in both
Phoenix, Arizona-AZ (22.1) and Dallas FortWorth, Texas-TX (20.4)!
To view us, scan for the corresponding digital channel.
OR click on "Watch Us Live..." at the top-right of this web site.
Adopt a Program
Did you know that a 30 minute program costs Good News TV just $8 per episode to air? That's just $32 per month to broadcast a life-changing show like "It Is Written", "Beyond Addiction", "Marriage in God's Hands", "Naturally Gourmet", "Kid's Time Praise", or "In Search of the Truth". Download a TV guide and choose a program you would like to adopt today. Call us at 480-264-1116 or click on the "Donate" button to the right. Your monthly gift will help GNTV proclaim the good news of Jesus' love 24 hours a day
.