FREE Medical/Dental/Optical Care & Much More!!!


Mon. - Wed., December 25-27, 7am - 5pm
Phoenix Convention Center
Do you need medical, dental or optical care that is not covered by insurance? ....


Watch Pathway Phoenix Rally--ON DEMAND



Pathway To Health -- Volunteers Needed -- Dec 25-27


What a perfect time of the year and way to share Jesus love by serving those in our community on Christmas! Join us by volunteering to help at this event. Join us also at the Phoeni Rally on Sept 22-24. See the video promotion below, and then click on the link to Volunteer and the link to register for the Rally.


VOLUNTEER FOR MEGA CLINIC:
http://www.PathwayToHealthVolunteer.org


Generation of Youth for Christ
An massive and powerful international Christian conference lead by youth and young adults, for youth and young adults (anyone is welcome). Attendance is roughly 5,000 - 6,000 every year. This year it will be in Phoenix at the Phoenix Convention Center,

Wednesday-Saturday, Dec 27-30

. Programs on Friday night and all day Saturday are FREE to locals.




Viewer
Testimony: Jimmy Greco
A powerful story about how our Creator has impacted the life of this artist.



The Evidence Series DVDs
A powerful 9 night seminar series comparing evidence of creation and evolution...
Answering the questions like, "Does God Exist?" "Can I Trust the Bible?"
Contact us to order your set of DVDs or

learn where this will be presented next.



http://www.evidence4life.com
Now you can watch Good News TV in a variety of ways.
CLICK HERE to learn how


Glendale Sanctuary Choir & Orchestra
Watch our latest Christmas production below!

Would you like to partner with us?
For $100 minimum donation

,
we will give you your choice of a DVD or CD of the
Glendale Sanctuary Choir and Orchestra
. We have other gifts available as well. Call us to learn more.
__________________________________________________________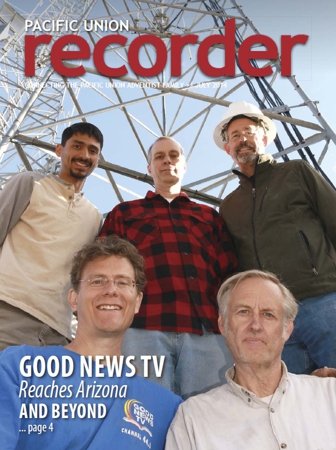 See the attached article for the latest update on our AZ Expansion!
Contact us to learn how you can help. 480-264-1116
---
Christmas Concert--Glendale Sanctuary Choir & Orchestra
with soloist Larry Ford from Gaither's
Glendale Church, 6801 N 43rd Ave., Phoenix
December 16, 2017, 4:00pm & 7:00pm



The Royal Banquet
Glendale Church, 6801 N 43rd Ave., Phoenix
December 17, 2017
Speaker: Dr. John St. Rose
Details: Call Jo Anna Jones 623-748-8841
Enjoy a great meal while you learn about the important of medical missionary work and some natural methods to treat medical problems.
CLICK BELOW to download/print YOUR INVITATION!
__________________________________________________________
Watch Good News TV by clicking on

TV image

→
( works with your computer, tablet or phone
)
DFW Viewers CLICK HERE
---
---
TROUBLE GETTING GNTV ON YOUR TV?
Good News TV, a Christian television station, 
is NOW LIVE on the airwaves in

Phoenix, AZ (22.1), Dallas/Fort Worth, TX (20.4) and many more locations!
Tune to the channel in your community, 
OR click on "WATCH LIVE" at the top-right of this web site.
Adopt a Program
Did you know that a 30 minute program costs Good News TV just $12 per episode to air? That's just $48 per month to broadcast a life-changing show like "It Is Written", "Beyond Addiction", "Marriage in God's Hands", "Naturally Gourmet", "Kid's Time Praise", or "In Search of the Truth". Download a TV guide and choose a program you would like to adopt today. Call us at 480-264-1116 or click on the "Donate" button to the right.  Your monthly gift will help GNTV proclaim the good news of Jesus' love 24 hours a day
.